Baldur's Better Aesthetics
is an attempt to make Baldur's Gate 3 look more like Faerûn as we know it. More Dwarves will have beards, more Duergar will be bald (including the women!), and fewer Githyanki will be sporting big ol' whiskers. You will also notice fewer people from Chult, but more from Calimshan, and there will no longer be ANY Half-Orcs with pink hair. Please note, these changes aren't universal. A couple of Dwarves have assimilated and gone clean-shaven, and a few lore-accurate descendants of Chultan foreigners remain (like the legendary Duke Ulder Ravengard). But you will certainly notice a difference!
Installation Instructions
: Download the provided .zip and extract its contents directly into the "Data" folder located inside of your "Baldur's Gate 3" folder. For Steam users, your Baldur's Gate 3 folder can be found at Steam/steamapps/common/Baldur's Gate 3. The English.pak file is not necessary, but it fixes some typos in dialogue and changes the names of certain NPCs (like female guards turned male).
MOD FILE:
https://f.rpghq.org/HDEBT1PcZqWp.zip?n= ... hetics.zip
Dwarves of Faerûn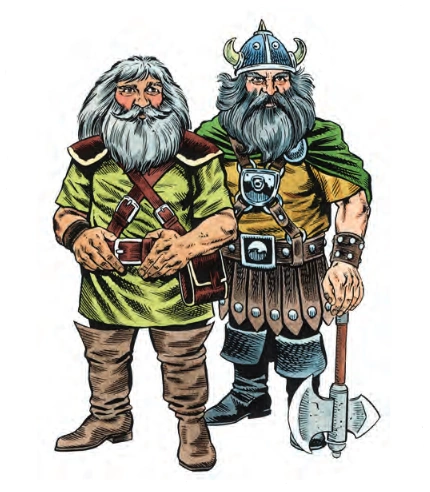 If you are like me, I trust you made a double-take or two at the sheer number of
shaved
Dwarves wandering around the city as if they were not by their very presence in public bringing great and lasting shame on their ancestors. Babyface Dwarves? This mod addresses this scandalous situation. With this mod installed, most of the male Dwarves you encounter across Baldur's Gate will now be sporting
big, bushy beards
, as one would expect of the Dwarves across Faerûn and other fantasy worlds.
In addition, fans new to Dungeons & Dragons and Faerûn may not know that the Duergar (or "Grey Dwarves") are famous for being almost
universally bald
- both men and women! And while the team at Larian largely kept true to this vision, there were still plenty of Duergar sporting voluminous manes of bouncy, breezy hair. Simply unacceptable! Most of the Duergar you encounter in the Underdark (and elsewhere) will now be bald.
Githyanki of the Astral Planes
I've made some other less noticeable changes, such as reducing the amount of beards on Githyanki men (according to the lore, Githyanki men have sparse facial hair) and reducing the amount of normal hairstyles among Githyanki, in general -
topknots and fauxhawks abound
!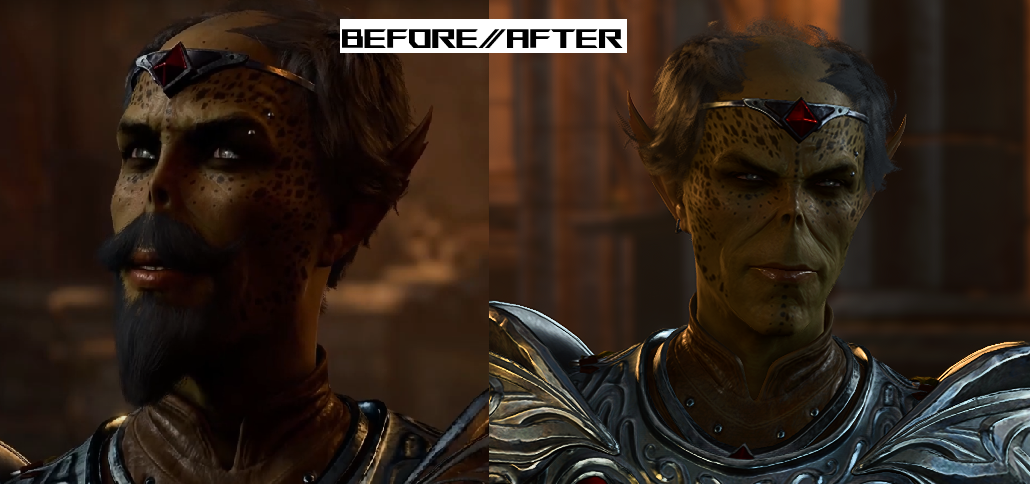 People From Far-Away Lands

First she's from Kara-Tur! Then, she's from Chult! Now, she's a Baldurian.
There will also be decidedly fewer people who look like they are from Chult (the southern jungles) or Kara-Tur (basically China). Baldur's Gate may be a trading metropolis, but the Sword Coast is still largely a Renaissance + Magic level of technology. There is no ubiquitous and cheap international travel to bring all of these people here. While they have not been removed entirely, you will certainly see fewer of them.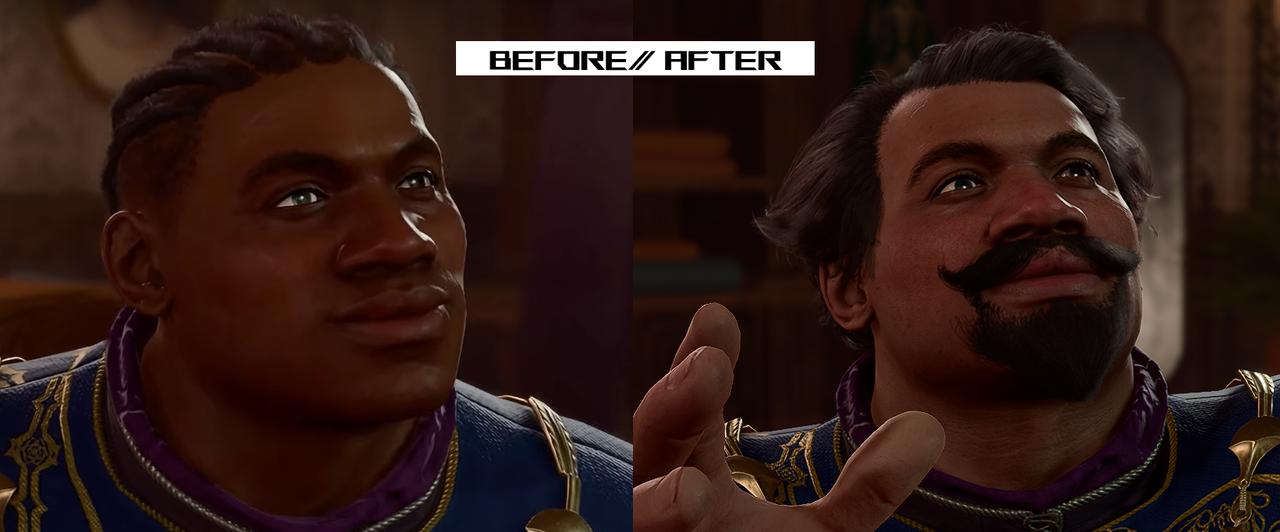 Figaro actually looks like he could be named "Figaro," now.

Ulthred now looks like an "Ulthred."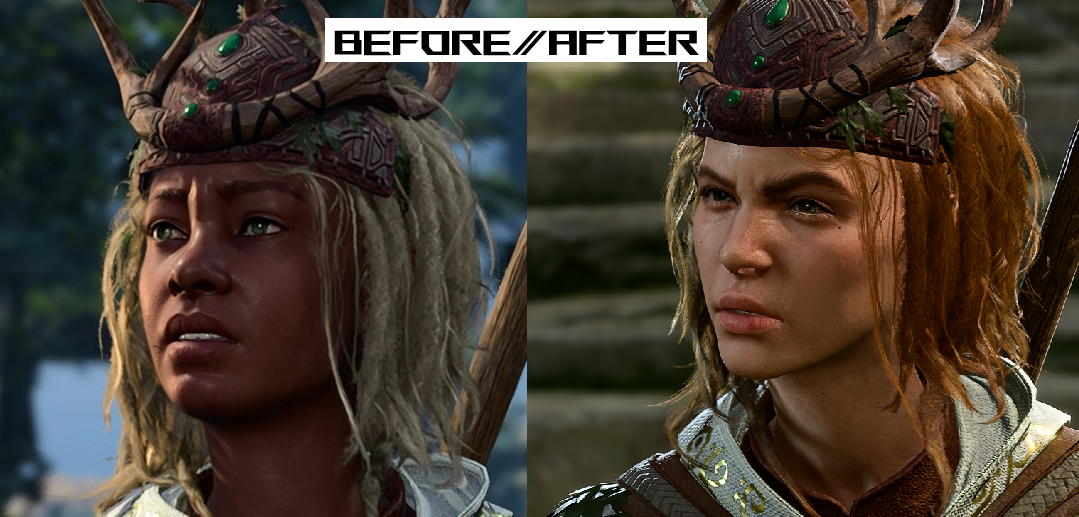 Jeorna the Druid no longer sticks out like a sore thumb.

Thadwick as a proper Dwarf.
And there are many other changed NPCs that you will notice! There will also be fewer pink-haired Half-Orcs.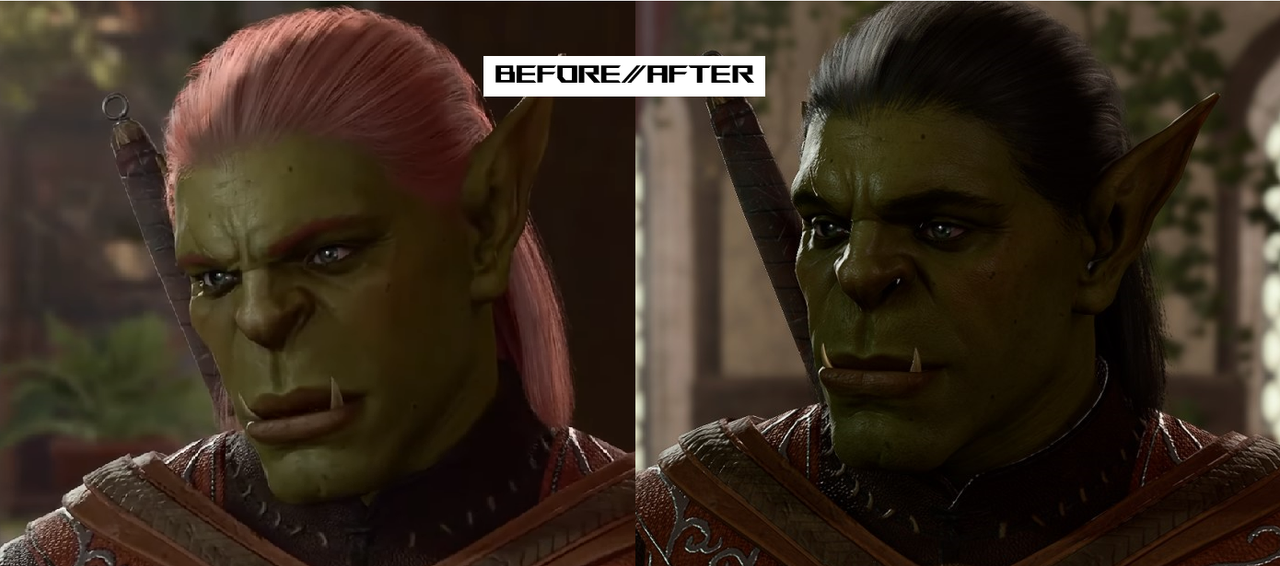 Going forward, I've had several people suggest that I make Drows darker. I was expecting that Starfield would distract me, but right now that game is... not getting great reviews. So, who knows! Maybe I'll come back and make the Dark Elves look like they were supposed to in older editions of D&D.