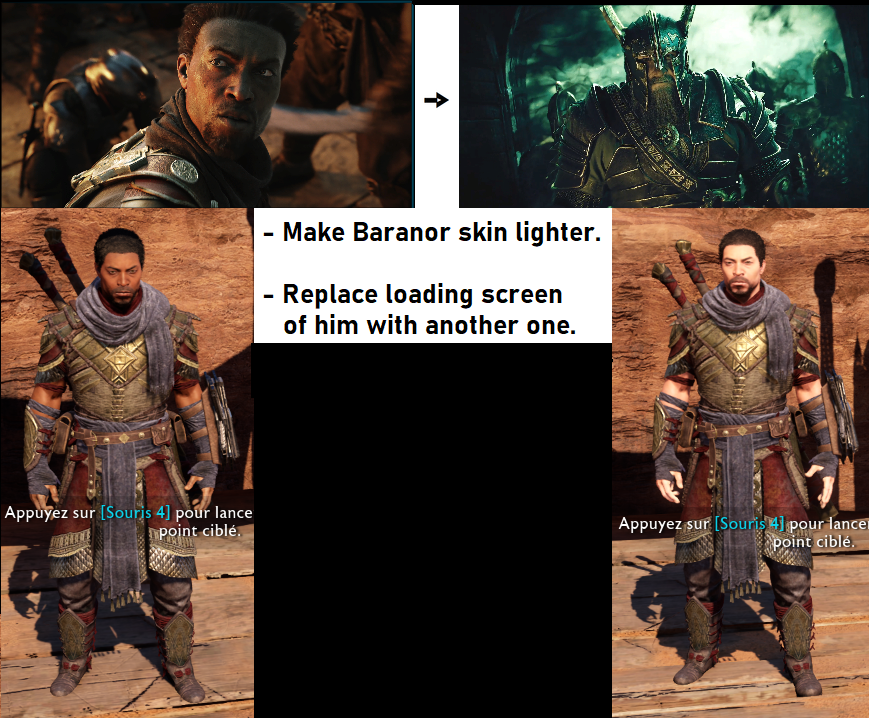 _______________
What it does;
- Give light skin to Baranor.
- Replace he's loading/splash screen images with another one.
________________
Quality of life; you can skip ahead to the install section if you want.
So here are a few quality of life thing that are useful;
I recommend launching the game, setting your UI, Audio and Graphic settings as you want them.
If you plan on doing a new game from scratch, start a new game now before modding.
FYI your save can be located in one of those location depending on the version you use;
Steam -> <Steam-folder>\userdata\<user-id>\356190\remote\<user-id>_ShadowOfWar.sav (You may want to disable steam cloud sync for this game wile swapping saves.)
GOG.com -> %LOCALAPPDATA%\WB Games\Shadow of War\<Device Name>_ShadowOfWar.sav
If you have trouble with the pathing above,
i heard it can be located easily by typing 356190 in the search bar from the AppData folder.
/!\ Be careful with what you are moving around if you are on an on going game.
Do not delete or replace files before you have make back up and tested in game if everything have been done properly.
It is useful for starting a new game with mod enable, but also in the vanilla game since it automatically save and you can't roll back unless you "manually save" through backups.
So, make a game save point, load in and quit once you are free of your movement.
Backup this save.
You should now have a possibility to "restart" a new game (or from whenever the backup is made) if you wish, without having to mess around with the moding tool files.
________________
How to install;
- First, you need to install the Middle-Earth Mod Loader;
You can get it on github
https://github.com/ReaperAnon/Middle-Earth-Mod-Loader
There is instruction with it provided by the creator but i will put them here as well anyway for convenience.
Middle-Earth Mod Loader require the latest version of Microsoft Visual C++ Redistributables. 2015-2022 (x64)
Before you do anything with it, do not forget to make a backup of the bink2w64.dll file that the mod loader will replace in the x64 folder.
So you won't have to re-install the game if you want to revert this change if you do a mistake.
Go to your game's installation folder, probably located at "...\steamapps\common\ShadowOfWar\x64"
and rename the normal bink2w64.dll file that you just made a backup from, to bink2w64_.dll
Place both the modloader folder and the new bink2w64.dll in the x64 game folder.
- Now you gonna need the Shadow of War Loader.
You can get it on nexus
https://www.nexusmods.com/middleearthsh ... ar/mods/49
There is instruction with in it provided by the creator but i will put them here as well anyway for convenience.
Place the Loader folder into the plugins folder inside the x64 folder
If you never moded the game you probably gonna need to create the plugins folder yourself.
- Finally, place the plugins folder of my mod into the x64 game folder, merging it with the one you previously created.
The pathing should go as ;
x64\plugins\Loader\Baranorfix
----------------------------\Signatures
That's it, you'r done.
To uninstall, simply remove all that. Don't forget to give back the bink2w64_.dll it's original name.
_____________________________________________
Problem & Solutions for the modding tool;
Modding of this game is fairly new and so are it's tools.
The bink2w64.dll from the Middle-Earth Mod Loader v6.1 (latest version at the time of the making of this)
can crash the game if you are;
- Changing you'r UI, audio or graphic settings
- Taking picture with Photo mode
- starting a new game from scratch
I only made the texture, i took no part in the tools creation and have no idea how it work so i can't help fix it.
But here is a very easy way around the problem;
- Remove the problematic bink2w64.dll
- Re-rename the original bink2w64._dll to it's normal name.
- Launch the game and get you'r setting as you want them, start a new game if you want and leave once you are loaded in.
- Quit the game and re-re-rename accordingly to what you did before the original .dll, and place back the no longer problematic one in it's place.
_____________________
Now about my mod;
If even after all this foreplay you do not see changes in the game, with it installed properly;
You gonna have to re-generating the signature folder.
To do so;
- Remove the Signatures folder. Located in x64\plugins\Loader\
- open the Loader.ini and set cache to = 0 (to generate).
- Launch the game. The loading time may be a little longer with the cache set to = 0 (to generate).
- Check if the mod is working;
1) Load in your game and visit Baranor.
2) Another quicker way is to go as if you was going to start a new game, if you have the dlc "The Desolation of Mordor Story Expansion".
But do not start it, remember starting a new game from scratch will crash. Hover above with the mouse and look the image of it, if the image you see is not him than it is now working.
- Close the game, you should now have a new Signature folder.
- Open the Loader.ini and set the cache back to to = 1 (to read).
Done.
Note that You may or may not have to re-generate the signature folder again after you do modification.
ex; I had to do it when i was doing some testing, after i had swap the .dll to change settings.
You probably will need to do it if you add another mod.
Feel free to reupload - edit - do whatever you want with it. Enjoy.
Speaking of it, the mod only change the skin texture since i could not manage to change he's face feature properly.
All my attempt with the mesh & Skeleton were a disaster, but maybe some of you may want to give it a shot, if so here are the files;
https://f.rpghq.org/YJWoZzn9nkoO.rar?n= ... ttempt.rar
Including Mesh, Skeleton and Textures for all thing Baranor related. Also included hairs of npcs if you want to pick one in there to replace he's.
Other similar mod uploads that may interrest you.
Better skin for NPCs in Skyrim SE;
viewtopic.php?t=1173-redguard-fix-1-1-skyrim-se
Better skin and hair colors for NPCs in Far Cry Primal;
viewtopic.php?t=1187-far-cry-primal-cen ... cry-primal
Better skin for NPCs and removing trans in Hogwarts Legacy;
viewtopic.php?t=1179-hl-localization-fi ... rts-legacy