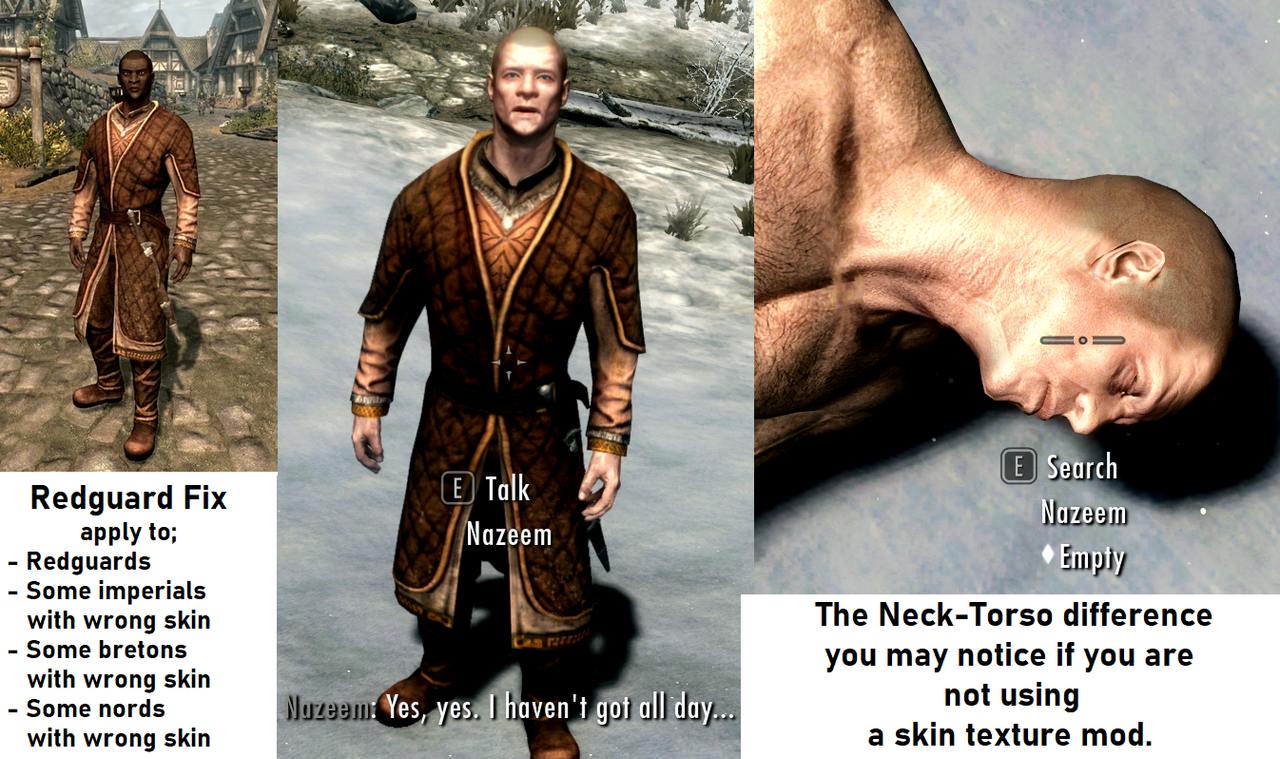 v1.1 ; Made the files into a .bsa to reduce size.
Require Skyrim Spécial Edition v1.5.97
________________________
How & what to install;
There are 2 mods in the file;
One for vanilla users
One for USSEP & CRF users. (Unofficial Skyrim Special Edition Patch & Cutting Room Floor)
1) Open the file and take out the version you want.
Note; I am using USSEP v4.2.6a & CRF v3.1.11 in French.
If using this one, you may encounter npc with French words in their names.
(for example; Vignar Gray-Mane will become Vignar Grisetoison)
I do not know if it is compatible with newer version of USSEP & CRF.
It probably is, but some of the changes that may be in the new version affecting the same npcs as my mod will be undone.
2) Place both the ESP and BSA of the version you want in the Data folder.
3) Verify if the ESP is activated with a mod manager, or launch the game and do it through the menu.
If using the USSEP & CRF version, make sure to load it's ESP after USSEP & CRF in your load order.
ESP are both flag as ESL. Meaning they do not count toward the plugin limit of skyrim.
For the curious and the modders that may want to do patchs for other mods or do additions, there is a list of all that have been edited in the Readme.txt after the instructions.
___________________
Potential problems;
A subtle difference between torso and neck can be seen if you look closely.
You can fix that by simply using a skin texture mod.
Any should do just fine as long as it only touch skin textures.
If you use other mods that further change NPCs, you may experience grey face bug, to fix that you can try to;
- place my mod below them
- try some of the "grey face" / "discoloration" fix mods, there is a few of them on nexus.
____________________________
Redguard Fix for other mods; Instructions are in the Readme.
Redguard Fix for Extra Guards ;
https://f.rpghq.org/oxgKOSizPIRg.rar?n= ... Guards.rar
Extra Guards original mod ;
https://www.nexusmods.com/skyrimspecial ... mods/13535
- Turn Redguards into Nords
Redguard Fix for Populated Cities Towns Villages Reborn ;
https://f.rpghq.org/5ycON91ySzP0.rar?n= ... Reborn.rar
Populated Cities Towns Villages Reborn original mod ;
https://www.nexusmods.com/skyrimspecial ... mods/32190
- Turn Redguard, Elfs, Orcs, Argonians and Khajit into Nords.
- Give some Imperial, Breton & Nord NPCs with dark skin a lighter one.
- Replace females mercenary with males.
- Give a name to every NPCs, instead of "Citizen" "Labourer" "Mercenary" etc
Feel free to reupload - Edit - Do whatever you want with my mods. Enjoy.
Other similar mod uploads that may interrest you.
Better skin for Baranor in Shadow of War;
viewtopic.php?t=1175-baranor-fix-1-0-mi ... dow-of-war
Better skin and hair colors for NPCs in Far Cry Primal;
viewtopic.php?t=1187-far-cry-primal-cen ... cry-primal
Better skin for NPCs and removing trans in Hogwarts Legacy;
viewtopic.php?t=1179-hl-localization-fi ... rts-legacy